Understanding First Nations Culture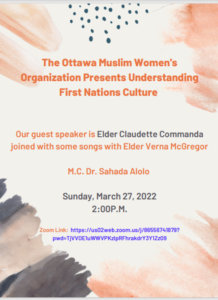 Please join our online event on Sunday March 27, between 2pm and 4pm.
Guest speaker: Elder Claudette Commanda
Songs by Elder Verna McGregor
OMWO president Dr. Sahada Alolo will be the host of the event.
Please rsvp with this email address: omwo2001@gmail.com or join via this link: https://us02web.zoom.us/j/86556741879?pwd=TjVVOE1uWWVPKzlpRFhrakdrY3Y1Zz09
Please send us your full mailing address for E-Transfer donations so that we can mail your Tax Receipt.
All funds raised by the Ottawa Muslim Women's Organization at this event will be donated to The First Nations Child and Family Caring Society.